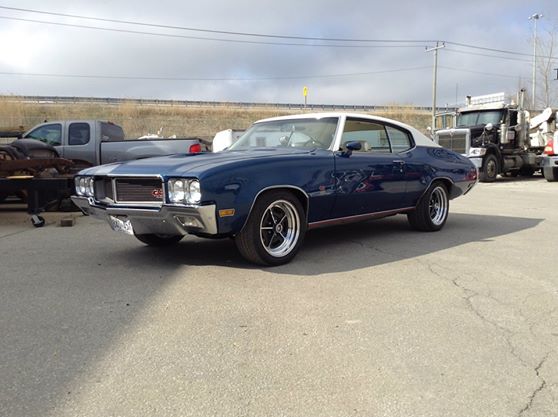 We started the work on this Buick GS, 7 years ago, yeah 7!!! As all projects go, some are full time builds and sometimes they are put on hold or take a break.
Chris was a tremendously great customer to work with. He brought us in his Buick for a quick makeover, and was destined for the cruising scene and the track. However, as we dug into the rust, dust and tar that was this 70 GS, the amount of work took us to a whole new direction.
Follow along through some of the picture history on this build, through 7 years in the process.
Little by little the Skylark has regained it's former glory. The body was prepped to be arrow straight, gaps where cut and the body painted an eye popping blue and finished with a white vinyl top. The factory bucket seated interior with console is finished in pearl white. The Buick is powered by a Stage 1 – 455 big block, backed by a turbo 400, 10 bolt and Dual Exhaust. Car stops using 4 wheel disc brakes and rides on 17″ Buick Rally Wheels.
Chris beat the rain here the minute we were finished up and raced to bring his Buick home.
Thanks for working with us on this one Chris, she is gorgeous and it is an example of a 1970 GS that you can be very proud of!!!